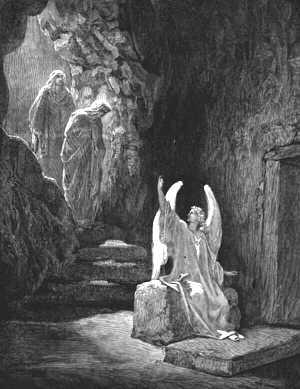 Went to morning mass today, and the homily brought up some good points (as it should) so I would like to pass some of it along-

Mainly, we fasted all Lent.. prayed more..etc.. but as soon as Easter comes.. we indulge in the very things we have been withholding from ourself, why do we go back to the old way of doing things... what then was the pont of our fasting and abstaining? In todays Readings we see the apostles doing the same..

Peter went out fishing - just as he had done before Christ - and caught nothing but when Christ comes to the boat and they listen to him they catch the big fish.

we had purified our souls for the resurrection and now we go back to our old ways.. With Christ we accomplish a great many feats, when we choose to go alone and lead ourself Where does it lead us?


"
O Blessed Trinity, abundantly assist me in becoming that which Thou intended me to become when Thou created me, for in that perfection I will give Thee the glory Thou desirest of me, and in that perfection I will find my greatest joy in heaven. Amen"